SYNOPSIS
Set in a typical peri-urban tribal village focusing on the struggle of a family to sustain its livelihood through a new trade--carrying passengers in a bicycle, "My Bicycle" is a subtle representation of Bangladesh's most marginalized ethnic population.
PLOT OUTLINE
When Kamal returns to his hillside village remote from the city with a bicycle, his son is happy to have his father back, but his empty hands make his wife anxious. However, Kamal decides to not return to the city even though jobs are scarce in the village. He, then, invents himself a trade. He offers to carry the villagers from place to place on his cycle. Even though, the locals at first did not know what a bicycle is, they quickly become familiar with the concept. But one day an accident occurs, injuring an old man. Local hooligans threaten Kamal's livelihood, declaring that no one can ride on that cycle.
FESTIVAL/AWARD
Tallinn Black Nights Film Festival
Zanzibar International Film Festival
Göteborg Film Festival
Silver Akbuzat Ethnic Cinema Festival
Skabmagovat Film Festival
Asiatica Film Mediale
Best Screenplay Award, Ufa Silver Akbuzat Ethnic Cinema Festival, Russia
Honorable Mention, Cine Kurumin - Int. Indigenous Film Festival, Brazil
The debuting Aung Rakhine tells a spellbinding tale about what may be a true story, but also an allegory for our fear of the unfamiliar.
- Freddy Olsson
Göteborg Film Festival
Director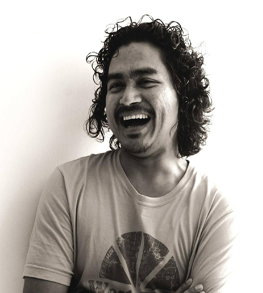 BIO/FILMOGRAPHY
Aung Rakhine is one of the aspiring indigenous filmmakers who is, despite of various barriers, struggling hard to come out with their own stories. My Bicycle is Aung's first feature film, and the first feature film to be made in an indigenous language in Bangladesh.
DIRECTOR'S NOTE
My Bicycle is my first feature film, and the first film in Chakma language spoken by most of the ethnic groups in Bangladesh.
Given that the languages of the Chakma and other indigenous peoples in Bangladesh are struggling for recognition and promotion, film, along with drama, is a very powerful medium to draw necessary attention to language and cultural rights of peoples.