SYNOPSIS
In 1971, during Bangladesh's war of independence, Meher falls in love with a soldier from the enemy side. When her love is discovered, she is shamed and silenced by her family and society. Today 38 years after the war, Meher has a visitor she cannot turn down. Sarah—a 'war-child,' Meher's cousin Neela's daughter, who was given away for adoption has come back to piece together her past. Together, these two women must re-tell history through their stories in order to cut through the stigmas and walk into light.
>Synopsis in Bengali
PREMISE
Meherjaan is a film about loving the Other. Meherjaan gives away with the unitary masculine narrative in order to usher in an emotional multiplicity of feminine emotion and sensibility. This film critiques certain pitfalls of nationalism that create conditions to justify war, killing and violence. Finally, Meherjaan attempts to offer an aesthetic solution to war and violence by taking refuge in love and spiritual submission.
PLOT OUTLINE
In 1971, the state of Pakistan raged into war. As a result, the country was divided and East Pakistan emerged as sovereign Bangladesh. 38 years later, Sarah, a war child begins a journey into her past. Meher, a middle aged sculptress, a survivor of 1971 war lives in Dhaka city alone. When Meher opens her chest of memory she pulls one story after another: ... ... ...
SELECTED FESTIVAL/AWARD
Festival International de Films de Fribourg
Festival de Cine de Bogotá
Festival Cinematográfico Internacional del Uruguay
Osian's Cinefan Festival of Asian & Arab Cinema
Fort Lauderdale Int. Film Festival
Kolkata Film Festival
Orsonn Wells Award at Tiburon Film Festival
Best Critic Award at Jaipur Int. Film Festival
Grand Jury Award at Northampton Film Festival
"…soulful, romantic storyline and an
honest appeal to find peaceful solutions to
political conflicts."
Times of India
"The response to Meherjaan was a reaction to
the demasculinisation that might be felt by some
and is an insight into the psyche of Bangladeshi
masculinity which is uncomfortable with individual
expressions of female sexuality."

Nayanika Mookherjee, Economic & Political Weekly
writer, director, producer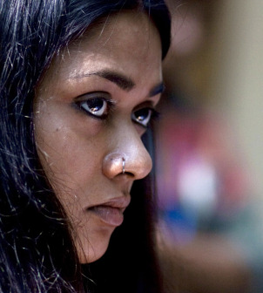 BIO/FILMOGRAPHY
Rubaiyat Hossain is one of Bangladesh's handful of female filmmakers, known for her critically acclaimed debut feature film Meherjaan (2011) which faced political and cultural wrath in Bangladesh for its anti war narrative, and its critic of masculine nationalism from a feminine point of view. Rubaiyat has completed her B.A. in Women Studies from Smith College, USA and M.A. in South Asian Studies from University of Pennsylvania. Currently she lives between Dhaka and New York making films and attending Tisch School of Arts at New York University in Cinema Studies.
Meherjaan, 2011
Under Construction, 2015
DIRECTOR'S NOTE
The purpose of Meherjaan is to break the glorious narrative of national history and open up a modest avenue to explore perhaps, not only one or two, but multiple ... read more narratives of war.History is always a creation of the present.We stand here, in our time and space, looking back in search of ourselves in the present time, piecing together what we call history: stories of people who lived in the past. First of all, no one will ever know what it was actually like if one didn't live it. However, there is at least one safe way to piece together a good enough contour of the past in order to comprehend the prominent political, socio-economic, cultural forces at play during a certain chunk in time.
"Bangladeshi war film
Meherjaan rekindles
old enmities"
BBC news